Land Navigation Course
Want a land navigation course that presents in a logical order, and in mostly video format, the things you need to know to find your way across any terrain, day or night? I thought you might.
That's why I spent months developing my special online course: Basic Land Navigation: How to Find Your Way and Not Get Lost.
The specific purpose of my course is to provide you in easy-to-learn "chunks," the information you need to become a competent map-and-compass navigator. You'll find important information on pathfinding, compass use, and map reading.
Besides the 4 hours or so of course video lectures, students will receive in the form of downloadable PDF files, two books I've written on land navigation:
Low-Tech Land Navigation
and 
Map Reading
These books supplement my video lectures which are hosted by Udemy (U-Academy), a popular online educational site. Total course completion time is about 8 hours, adding reading time to the video time.
Whether you're a hunter, hiker, outdoor photographer, in the military, or a member of a search-and-rescue team, this course is for you. Or maybe you'd just like to wander through the woods, and not get lost. This course is for you, too.
We'll spend at least four hours together, during which time I'll provide you with detailed video land navigation instruction to help you learn to find your way. Each "lecture" as they call it at Udemy is from about 3 to 20 minutes long, so you don't have to stay parked in front of a computer for more than a few minutes at a stretch if you don't want to.
What's covered? 
First, we'll go over pathfinding procedures. Pathfinding means "how do you make your way over the terrain?" For instance, what if you're walking a compass course, and obstacles appear in your path? Many textbooks say to bypass the obstacle at right angles. Well, that works for a nice, neat obstacle, but what if the obstacle is not so nice and neat, like say a strand of palmetto bushes, or some other line of brush so thick it wouldn't make sense to walk through it? In this case, you'd use an "imaginary runway," which we'll cover in the course.
We'll cover catching features, handrails, dead reckoning, collecting features, check-off features, and attack points. 
We'll go over what to do if you get "dislocated." This happens to just about all navigators, and happens more often than many of us would like to admit. How do you find yourself again? You'll learn how.
You'll see how to use a safety bearing if all your navigation efforts fail. 
We'll go over how to use a compass--both a baseplate compass, and a lensatic compass. You'll learn when to travel "rough compass" and when to travel "precision compass." And of course, you can't study compass use without learning about declination. The topic can be confusing, but I've tried to make it as simple as possible. 
Next, we'll go over the ins and outs of topographical maps--color codes and scales, marginal information and symbols, contour lines, orienting the map, measuring distance, and resection. You'll learn to use a protractor with your map. You'll learn to use the base plate compass as a protractor, and you'll learn to use a US military protractor. 
There's a lotta stuff in here, but I believe I have given you what you need to know to find your way across any terrain, anywhere. And I've done my dead-level best to make it easy, logical, and highly informative. 
Go through the course at your own pace. The course, offered via Udemy (sort of an online university) has "lifetime availability," meaning you can go back and brush up anytime in the future. Message me inside the course with any questions or comments. Normally, I'll get back to you fairly quickly, unless of course, I'm out in the boonies somewhere, but then I'll get back to you as soon as I can get back in front of a computer.  
Further, I've made every effort to make this in-depth video course as affordable as possible. At $20, it's about the cost of a typical book. But instead of a paper-and-glue book, you get four hours of detailed video instruction, in which I take you step by step through the navigation process. My goal in providing this instruction is that you learn to navigate across any terrain, day or night.

In addition to the videos, as I mentioned above, you get two downloadable PDF books:
(1) Low-Tech Land Navigation -- My 135-page book that covers the elements of baseline navigation, including handrails and catching features, dead reckoning, compass directions, checkpoints, and aiming off. There's also a complete section on navigating without a compass, using the sun, the stars, and the moon to guide you. Finally, there's a section on navigating without a map. Columbus had no marine chart, yet he crossed thousands of miles of ocean and found his way home. You can certainly do the same thing over a few kilometers of terrain.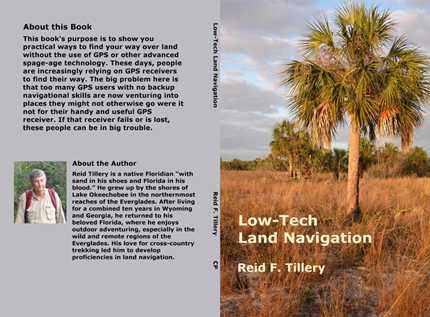 (2) Map Reading--This 71-page book will take you through the ins and outs of topographical maps, including color codes, scales, marginal info, symbols, contour lines, terrain features, and measuring distance. You'll learn to use a base plate compass, and how to work with magnetic declination. You'll learn how to orient a map, and how to find your location on that map. Finally, the book covers map grids--latitude/longitude, the Universal Transverse Mercator grid, and the Military Grid Reference System.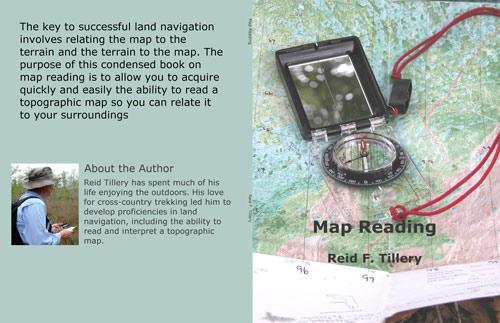 So, are you ready to go? Click below, and the link will take you over to Udemy.com where you will find more info on my course. You can even watch some of the lectures as a preview to the course. To register, just click the TAKE THIS COURSE button, an that will get you over to my course page at Udemy.com. From there, you can register. Once registered, please be sure to send me a "hello" message through the course's messaging system. I'll enjoy hearing from you.