Announcement: My online Land Navigation course includes four hours of video instruction, and two downloadable PDF books, all for about the same price as a typical paperback book. Get my Land Navigation course here.
What is Orienteering?
What is Orienteering? For many years I wondered the same thing. Unfortunately for me, I remained under the mistaken notion that Orienteering was some sort of tame kids' compass game that had little if anything to do with real, honest-to-goodness wilderness navigation. Consequently, even though I loved the task of finding my way through the wilds, I didn't give the sport of Orienteering much thought at all. In fact, I thought it was silly to make a useless picnic game out of land navigation.
A Pleasant Discovery
Not too long ago, I was pleasantly surprised to discover I had for years labored under a false notion, and that I really had no clue as to the real nature of this sport, which started in Sweden about a century ago as a test for military officers. Since then Orienteering has spread throughout Scandinavia and other parts of the world, even to the USA, although it's not yet as well-known here as it is in Europe.
So, what is Orienteering, really? While it can be a tame picnic game if that's the way you want to play it, it can also be a most challenging wild and lengthy dash through the woods which tests both your physical fitness and your land navigation skills.
Essentially, an Orienteering course most often consists of a series of control points (CPs) laid out in the terrain, and your goal as a participant is to use a map and compass to find these points, prove that you found them either by punching a paper "ticket" or recording the event on an electronic chip, and get back to the finish line in as little time as possible. Whoever completes the course in the shortest time wins the game.
An Orienteering Control Point in the Middle of the Woods
Orienteering Courses Range in Level of Difficulty
An Orienteering event will usually have several courses at the same event, ranging from novice courses to those for more advanced players.
Orienteering courses are "color coded." The relatively tame course for beginners is the white course. More advanced courses may be yellow, orange, green, red, and blue, with blue being the longest, the toughest, and the most challenging.
For my first event, I chose the red course because I wanted a challenge, and thought I was up to it. Players have staggered start times to keep them apart, and at my start I was given a map and told "Go!" You're not allowed to see the map ahead of time, so the first thing I did was try to make sense of the map. I immediately saw there were 15 CPs along a 4.8-kilometer course.
Now, came the task of finding my first control. Actually, that one turned out to be fairly difficult because I didn't really have the map figured out yet, but by the time I found it, I was much better acquainted with the map and was able with some trial and error to follow it to each CP along the course.
Actually, I found this game to be tougher than most wilderness navigation challenges. When you're just trying to get across the wilderness, you can go from baseline to checkpoint at your leisure, and there's normally no need to locate a specific point feature in the middle of the woods.
Not so with the O game, in which many of your controls can be located off trail out in the middle of nowhere. Not only do you have to find them, but you have to do it as fast as possible if you hope to win the game.
A Useful and Practical Game
About half-way through the course, I realized how much sense it makes to take a serious and useful activity such as land navigation, and make a game out of it. We can't always be in the great wilds somewhere, but I don't think it's too hard to find several Orienteering events--often at a State Park or National Forest--per year located within a day's drive of many, if not most, places. I regret not having discovered this fun, educational, and challenging sport sooner. 
Anyone who wants to improve their ability to navigate across the terrain should try their hand at Orienteering. After a few events, even a beginner can start to get really good at it.
In fact, while out in the woods looking for my CPs, I ran across several Girl Scouts and their adult leader on a different course who just happened to be looking for two or three of the CPs on my course.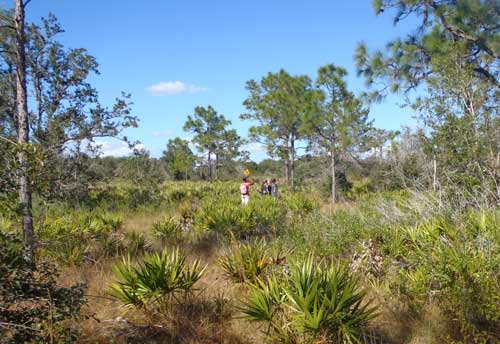 Urban Girl Scouts Finding their Way through the Wilds
Now, let me tell you what, these teen-age girls were good at finding their way through the wilds. They'd look at the map, and say "It's over there!" and would proceed to locate the control. I was proud of them and smiled to myself and wondered how many Army Rangers could do as well. All this, of course, is testament to the useful and practical life skills gained by participating in the grand sport of Orienteering.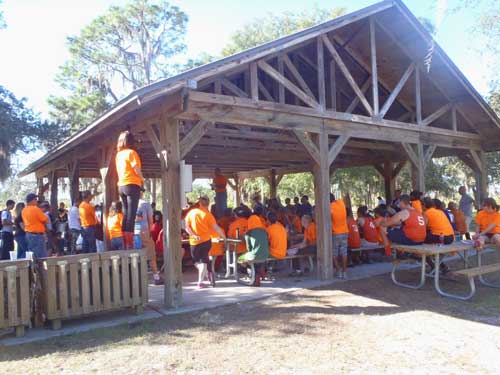 Orienteering Event Awards Ceremony
At the close of the race, there was an awards presentation. Most of the players in this event were Navy Jr. ROTC members, and by and large it seems they did very well. In only one short afternoon, their land nav skills had sharpened, plus they'd have lots of exciting tales to tell on Monday morning.
For more about Orienteering, see my page on Orienteering for Beginners.
Orienteering training - Discovering Orienteering is an excellent book on the subject. Check out my review.
As do many other groups of people with a like-minded interest, orienteers often organize themselves into clubs. Joining an orienteering club is a great way to get started in the sport. Most clubs hold organized meets, which will allow you to put your skills to use. Or if you don't have any land navigation skills, participating in an orienteering meet can help you gain them.  One way to learn to orienteer is to get out there and, as Nike says, just do it. You'll learn by your mistakes, plus there are usually quite a few helpful people around who can get you started off on the right foot. Are you in the USA? To find the club nearest you, check the map of orienteering clubs.
A great way to learn or practice your orienteering is to run a permanent course, and many states in the USA have at least one permanent course. A permanent course has permanent controls in place, and you can run even if there's no meet going on. For your convenience, here is a list of permanent orienteering courses in the USA.